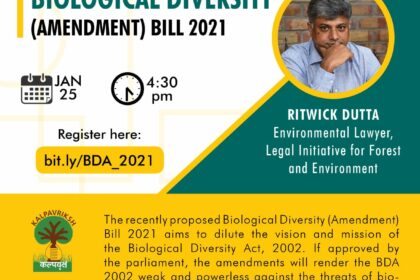 The recently proposed Biological Diversity (Amendment) Bill 2021 aims to dilute the vision and mission of the Biological Diversity Act 2002 (BDA 2002). If approved by the parliament, the amendments will render the BDA 2002 weak and powerless against the threats of bio-piracy and will make India's rich biological resources that have sustained forest dwelling communities for generations open to exploitation. 
Join us for a discussion to understand the draft Biological Diversity (Amendment) Bill 2021 and its implication on India's biodiversity, trade in biological resources and the communities that depend on it. 
SPEAKERS: Ritwick Dutta, Environmental Lawyer, Legal Initiative for Forests and Environment (followed by discussions with the speaker). 
DATE: 25th January 2022 
TIME: 4:30pm to 6:00pm 
LINK: bit.ly/BDA_2021