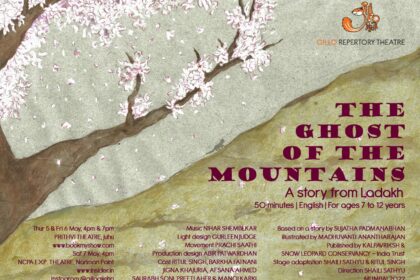 Julley! We are excited to announce a play staged by Gillo Repertory Theatre, based on one of our children's books 'The Ghost of the Mountains'.
Join Gillo Repertory Theatre at the staging of *THE GHOST OF THE MOUNTAINS* A story from Ladakh
Based on a book by Sujatha Padmanabhan Directed by Shaili Sathyu Performed by Ritul, Barkha, Jigna, Afsana, Saurabh, Preeti & Manoj
5th and 6th May, 4pm & 7pm PRITHVI, Juhu https://in.bookmyshow.com/…/the-ghost-of-the…/ET00326735
7th May, 4pm NCPA, Nariman Point https://summerfiesta.ncpamumbai.com/the-ghost-of-the…/
Follow us at http://www.instagram.com/gillogilehri
Please see the brochure attached for more details.