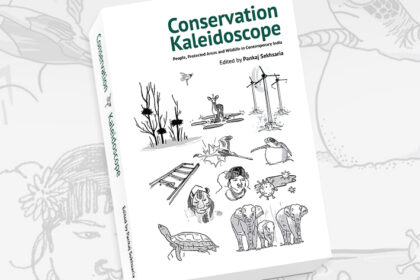 We are delighted to announce new book 'Conservation Kaleidoscope -People, Protected Areas and Wildlife in Contemporary India'

Conservation Kaleidoscope is a collection of over a 100 edits and accompanying news items that have
appeared over the last two decades in the Protected Area Update, a bimonthly newsletter on wildlife and conservation that has been published regularly by environmental action group, Kalpavriksh since 1994.

Written by the newsletter's long time editor, Pankaj Sekhsaria, the individual edits offer an interesting and often counter-intuitive account of the state of wildlife conservation and protected area management in contemporary India. Organised over 14 broad themes in this collection, the book offers a ringside view of conservation that is as
challenging and informative as it is insightful and provocative.
Published by Kalpavriksh, Duleep Matthai Nature Conservation Trust and Authors Upfront
Print edition available on:
Amazon India | Flipkart | AuthorsUpFront
eBook available globally on Amazon
Kindle stores
Available for a special pre-publication discounted price of Rs. 450/- For details write to [email protected]