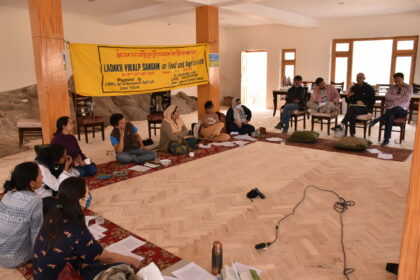 The Ladakh Vikalp Sangam on Food & Agriculture was co-organised by Ladakh Autonomous Hill Development Council, Agr. Dept of Ladakh UT, Local Futures Ladakh, Snow Leopard Conservancy – India Trust, Ladakh Art and Media Organisation, and Kalpavriksh Vikalp Sangam at Saboo village from 19th-20th September, 2021.
The over-arching focus of the sangam was to focus on how to implement Ladakh's Mission Organic (target to make the region 100% organic by 2025), along with saving its food traditions, sustaining livelihoods, and protecting its fragile ecology. A detailed discussion was facilitated on imagining and re-defining the wellbeing of Ladakh (in the context of agro-tourism, food and pastoralism).
A number of follow-up actions have emerged post the two-day gathering that will be taken up by the Council and civil society groups. The Sangam saw active participation of farmers, NGOs, scientists, food entrepreneurs, govt officials and the Exec. Councillor (Agr). All of this was accompanied by displays of organic / local produce, and of course, delicious traditional lunches! And a trip to the farms of organic farmers in Saboo village.