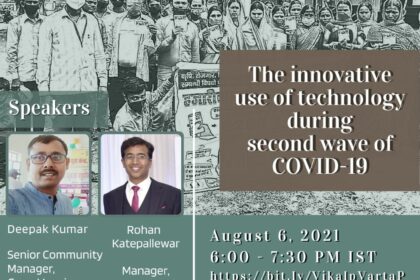 Innovative use of Technology during the Second Wave of Covid-19!

Join the new Vikalp Varta 2.0 with Rohan Katepallewar, manager at Gram Vaani and Deepak Kumar, Senior Community Manager at Gram Vaani who share how they used technology to tackle Covid-19 in India! 

Date: Friday, 6th August 2021
Time: 6:00 – 7:30pm IST
Zoom Link: https://bit.ly/VikalpVartaP202

(No Registration Required)

About Gram Vaani
Gram Vaani started in 2009 is a social tech company incubated out of IIT-Delhi. They use technology to create participatory media platforms that people find accessible and adaptable. Using simple technologies and social context to design tools, they have been able to impact communities- more than 3 million lives touched through 25+ district and partner platforms covering 20+ Indian states. Their platforms have also covered 5 countries beyond India – Ethiopia, Afghanistan, Pakistan, Namibia, South Africa. 

Brief note on Vikalp Varta

– During the second wave of Covid Pandemic, Gram Vaani addressed a host of problems to tackle the crisis. They made efforts in 5 areas
– Addressed the stigma and fear around covid through their Interactive Voice Response (IVR) lines and teleconsultation
– Addressing the lack of awareness and covid appropriate behaviour through developing audio content in multiple languages based on technical advisories
– Facilitating emergency support such as cash, transportation, ambulances, oxygen, etc. to people requesting help on their platform especially to those who do not have social security mechanisms
– Deploying voice-based survey tools & registration systems for supporting vaccine registration, especially for those, who were unable to use smartphones or access the online vaccine registration systems themselves
Envisioning an IVR system for monitoring and triaging of patients under home-care, to escalate in time any at-risk cases.