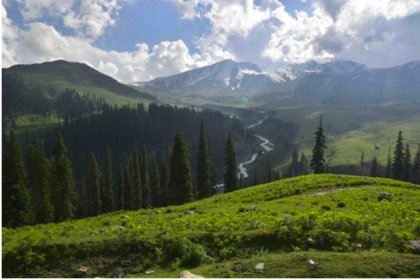 A remarkable, non-violent movement took place in 2012-14 near Khag in Kashmir, to conserve Tosamaidan, a lovely, biodiversity-rich Himalayan landscapes of forests, meadows and mountains. The main focus of the movement was to stop an army firing range that had killed several people and livestock, and caused loss of livelihoods, for several decades. Local villagers of about 60 panchayats mobilized under the banner of
Tosamaidan Bachao Front, with help from civil society groups, and convinced the government to not extend its lease. Subsequently, movement members have been planning ecological regenration and alternative livelihood options for the local people, especially youth. In the new situation created by the central government's proposed abrogation of Kashmir's special status and downgrading it to a Union Territory, the future
of this unique initiative is uncertain.
An illustrated presentation by Shrishtee Bajpai and Ashish Kothari of Kalpavriksh, who visited Tosamaidan in June this year.
Saturday, 7th September, 11 am
Location: Pagdandi Basement, Shop No.6, Regent Plaza, Baner Pashan Link Road, Behind
Symantec, Baner 411045, Pune,
Entry Free. Seating on first come basis