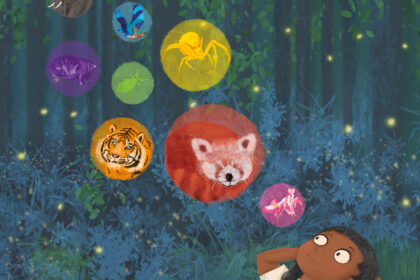 WHEN: Saturday, 12th August 2023 | 9:30 am to 12:00 pm
WHERE: Smriti Van, Jawahar Lal Nehru Marg, Jhalana Doongri, JAIPUR (See Location)
FOR: Children aged 8-12 years
SCHEDULE:
9:30 – 9:45
Registration
9:45 -10:15
Guided nature walk with with avid birder and photographer Shweta Shrotriya. Learn about the flora and fauna of Smriti Van!
10:15 – 10:30
Book release by chief guest
10:30 – 11:00
Book reading and discussion with author and illustrator Shruti Hemani
11:00 – 11:45
Art and craft activity with author-illustrator
11:45 – 12:00
Book signing
Author signed copies available for sale!
Why Are You So Colourful?
Written and Illustrated by Shruti Hemani
Published by Kalpavriksh
About the book
Why is a red munia red? Why does a bullfrog turn yellow? How does a painted stork get its pink colour? Why do some mushrooms glow in the dark? Why do purple sunbirds shine? And why do most mammals come in different shades of brown? This magnificently illustrated book explores the hows and whys of colours in the natural world. More
About the Author/ Illustrator
Shruti is an architect and urban designer with a PhD from IIT, Guwahati. Alongside her professional career in urban design, she continues to follow her interest in illustrating and since the year 2020, she contributes regularly to children's magazines and picture books.
Shruti is also a keen observer of all forms of life between buildings. In her leisure time, if not wandering the streets of Jaipur observing plants, fungi, insects, birds and people, she may be found hiking in the Aravallis.
About the Publisher
Kalpavriksh is a non-profit organisation working on environmental and social issues since their establishment in 1979. It works at local, national and global levels on environmental awareness, campaigns, litigation, research and advocacy particularly related to people's rights, and communities' role in biodiversity conservation. See children's books by Kalpavriksh.
About the Nature Guide
Shweta Shrotriya received a PhD in motivation management from the University of Rajasthan. She is in-credibly passionate in photographing birds to better understand their behaviour. In addition, she has spent the past few years organising and actively taking part in efforts to conserve the local flora and fauna.
About Smriti Van
Smriti Van, with a roughly 108-acre footprint, is located along JLN Marg in the heart of Jaipur. It is known for its beautiful terrain, which is home to a variety of trees, flowers, and animals.
THE EVENT IS NOT CHARGED, BUT THE ENTRANCE FEE TO SMRITIVAN IS RS. 30 PER PERSON.
Seats are limited. All participants who register are requested to come so that no seats are wasted.