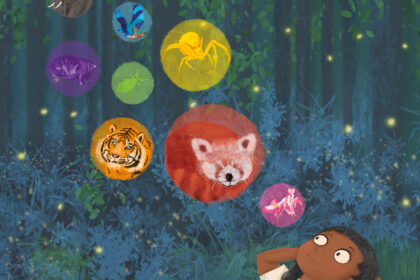 WHEN: Sunday, 13th August 2023 | 9:30 am to 12:00 pm
WHERE: Kishan Bagh Sand Dune Park, 10 A, Sector 8 Main Road, Vidyadhar Nagar, JAIPUR (See Location)
FOR: Children aged 8-12 years
SCHEDULE:
9:30 – 9:45
Registration
9:45 -10:15
Guided nature walk with with naturalist Monal Singh. Learn about sand, rocks, plants and animals of Kishan Bagh!
10:15 – 10:30
Book release by chief guest
10:30 – 11:00
Book reading and discussion with author and illustrator Shruti Hemani
11:00 – 11:45
Creative hand-printing with natural colours
11:45 – 12:00
Book signing
Author signed copies available for sale!
Why Are You So Colourful?
Written and Illustrated by Shruti Hemani
Published by Kalpavriksh
About the book
Why is a red munia red? Why does a bullfrog turn yellow? How does a painted stork get its pink colour? Why do some mushrooms glow in the dark? Why do purple sunbirds shine? And why do most mammals come in different shades of brown? This magnificently illustrated book explores the hows and whys of colours in the natural world. More
About the Author/ Illustrator
Shruti is an architect and urban designer with a PhD from IIT, Guwahati. Alongside her professional career in urban design, she continues to follow her interest in illustrating and since the year 2020, she contributes regularly to children's magazines and picture books.
Shruti is also a keen observer of all forms of life between buildings. In her leisure time, if not wandering the streets of Jaipur observing plants, fungi, insects, birds and people, she may be found hiking in the Aravallis.
About the Publisher
Kalpavriksh is a non-profit organisation working on environmental and social issues since its establishment in 1979. It works at local, national and global levels on environmental awareness, education, campaigns, litigation, research and advocacy particularly related to people's rights, and communities' role in biodiversity conservation. See children's books by Kalpavriksh.
About the Nature Guide
Monal is a naturalist and holds a keen interest to learn the science behind plant behaviour and restoration. She is a molecular biologist by degree and loves to establish the link between textbooks and field!
About Kishan Bagh
Kishan Bagh Sand Dune Park is Jaipur Development Authority's flagship ecological restoration project. It is a small part of a sprawling set of sand dunes that had come to a standstill at the southwestern foot of Nahargarh, in northern Jaipur city. It was inaugurated by Rajathan's Chief Minister in December of 2021 and quickly became a popular tourist attraction for Jaipur's residents.
THE EVENT IS NOT CHARGED, BUT THE ENTRANCE FEE TO KISHAN BAGH IS RS. 25 FOR STUDENTS AND RS. 50 FOR OTHERS.
Seats are limited. All participants who register are requested to come so that no seats are wasted.