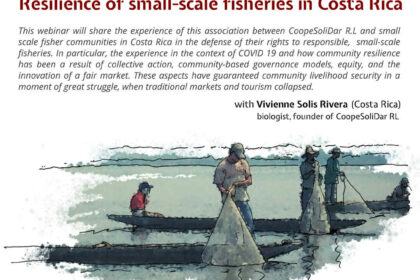 Alternatives in Pandemic Times: Resistance, Recovery and Re-Existence – a Webinar series
Confronting COVID 19 with dignity and strength: Resilience of small-scale fisheries in Costa Rica
with Vivienne Solis Rivera (Costa Rica) and Nalini Nayak (India)

Friday 2nd July – 3:00 PM (UTC/GMT)

This webinar will share the experience of the association between CoopeSoliDar R.L and small scale fisher communities in Costa Rica in the defense of their rights to responsible, small-scale fisheries. In particular, the experience in the context of COVID 19 and how community resilience has been a result of collective action, community-based governance models, equity, and the innovation of a fair market. These aspects have guaranteed community livelihood security in a moment of great struggle, when traditional markets and tourism collapsed.

More information and registration
Direct access to the session

About the presenter
Vivienne Solis Rivera Is a Costa Rican biologist with a MSc. degree in Ecology from the University of Lawrence in Kansas. She has devoted her professional life to the support and recognition of the efforts of IPLC to conservation and sustainable use in the Central American region. She is the founder of CoopeSoliDar R.L.
About the moderator
Nalini Nayak is an activist, feminist and trade unionist based in Kerala, India. She has been involved with coastal communities and their issues for over three decades, associated with Protsahan Trivandrum, Mitraniketan Vagamon and the Self Employed Women's Association. From SEWA Kerala and International Collective in Support of Fishworkers, she will moderate the session.