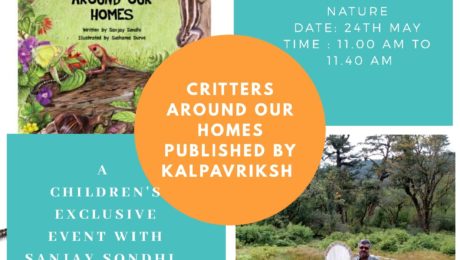 Kalpavriksh Kids' Book Reading Session…
Critters around our home : The book is a peek into the lives of some of the creatures we see in and around our homes. 
Has anyone told you that a gecko can detach its tail? Or that some moths live only for a week or two? 

Find out about these creatures and many more… and also join us for lively chat and discussions with the author of the book Sanjay Sondhi. 
Sanjay Sondhi is a Dehradun-based naturalist and also author of numerous books and technical papers on amphibians and reptiles, birds, butterflies and moths and other Indian wildlife.

Date: 24th May Time: 11.00 AMVenue: zoomLink for the meeting https://us04web.zoom.us/j/3054248797?pwd=WmF5U204WW9temo2Y3ZEczYxQ29Kdz09
Meeting ID: 305 424 8797Password: 9fg3K1
Join our WhatsApp group for updates on more such session . 
https://chat.whatsapp.com/FUXburx4cytFHr6Ho2RM0C