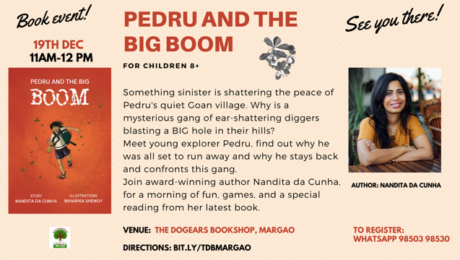 We are delighted to invite you all for a book event of our new book 'Pedru and the Big Boom' at The Dogyears Bookshop, Margao on 19th Dec, 2021 (11am-12pm)
About the book:
Pedru and the Big Boom (for children 8+)
Pedru is curious about life beyond his village in Goa. Even though he loves his father's cashew trees and mother's curries, his loyal friends and football fields, he desperately wants to be an 'explorer'. But when his grand plan to escape turns topsy-turvy, he believes that he has set loose a chain of events, which will put his entire village in danger! Who are these mysterious new people? Why are they blasting a big hole in the hills near their village? What can he do to make things right?
This story is an emotional rollercoaster that takes you through the struggle of one boy and his village, against a powerful opponent, to save their beloved land…

About the Author
Nandita Da Cunha
Nandita da Cunha is an award-winning children's book author based in Mumbai. After her MBA at XLRI, (Jamshedpur), she worked as a strategy consultant with Arthur Andersen and KPMG, before moving on to what makes her happiest – writing.
She has authored Picture Books, including 'The Miracle on Sunderbaag Street' (which won the Neev Book Award, 2021 – emerging readers category, and was a 2021 Parag Honour List book), 'Just like Papa' and 'The Magic in my Fingers'. Her other chapter books include 'The Magic of Maya.'
She was among 14 playwrights selected to attend the fourth edition of the Writer's Bloc playwriting program, conducted by the Royal Court theatre, London, in collaboration with Rage Theatre, Mumbai. She is also a pianist and is a Licentiate from the Trinity College of Music, London.
To register, the see poster attached.