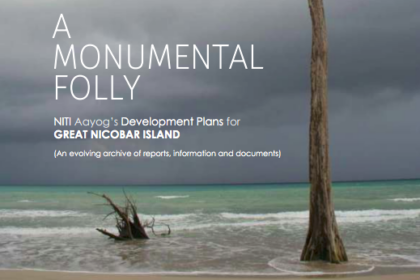 'A Monumental Folly' is a new report from Kalpavriksh that looks at the rapidly unfolding situation in the southern most island of the Andaman & Nicobar Island group. Put together by Pankaj Sekhsaria, long time chronicler of the islands, the compilation is an exhaustive dossier (and an evolving archive) that puts together related information on Great Nicobar for quick and easy access. The first part is comprised of a series of news features on the Niti Aayog's plans for the island that were published in the first half of 2021 in 'The Hindu', 'Mongabay India' and 'The Wire'.
The second part, the more substantial one, is a set of 30 detailed annexures – meeting agenda notes, committee meeting minutes, administration notifications, call for proposals, the pre-feasibility report for the project dated March 2021, scientific assessments, RTI responses and much more.
The compilation aims to help the reader get a quick and reasonably comprehensive account of what has happened thus far and also help us, hopefully, to anticipate what we should be expecting in the months to come. It also aims to articulate and illustrate the folly of pushing such a mammoth project in these islands that lie at a very fragile and vulnerable intersection of the geological, ecological and socio-cultural. To go ahead with it will be to perpetuate a monumental folly the price paid for which cannot even be comprehended.
The report is available here.