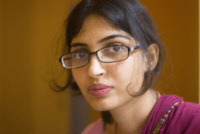 Shiba Desor joined Kalpavriksh's Conservation and Livelihoods team in 2011 after a Masters' degree in Environmental Studies. Between 2011 and 13, she was involved in advocacy and research related to governance of community forest resources and Protected Areas. During this time, she helped coordinate the Community Forest Rights Learning and Advocacy (CFR-LA) Process and the Future of Conservation Network. She edited the first and second Citizen's report on Community forest rights and authored/ co-authored a number of policy briefs for the KV documentation centre.
Since 2014, she also became a part of the Alternatives team, helping document initiatives in Kachchh and Munsiari through case studies and stories for the Vikalp Sangam process. During this time, she helped organise the first Vikalp Sangam (Alternatives Confluence) at Timbaktu, Andhra Pradesh in September 2014.
More recently, she is trying to slow down and also gain a deeper understanding of how humans perceive and relate to their surroundings, especially food.
She likes people-watching, stories and bhakarwadi.